We'll Never Be Apart by Emiko Jean
Release Date:
October 6, 2015
Publisher:
HMH Books for Young Readers
Source:
Publisher
Format:
ARC
Pages:
279
Amazon | Goodreads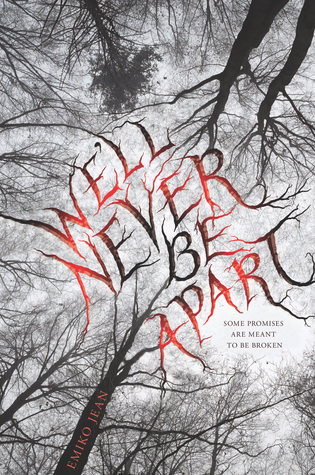 Murder.

Fire.

Revenge.

That's all seventeen-year-old Alice Monroe thinks about. Committed to a mental ward at Savage Isle, Alice is haunted by memories of the fire that killed her boyfriend, Jason. A blaze her twin sister Cellie set. But when Chase, a mysterious, charismatic patient, agrees to help her seek vengeance, Alice begins to rethink everything. Writing out the story of her troubled past in a journal, she must confront hidden truths.

Is the one person she trusts only telling her half the story? Nothing is as it seems in this edge-of-your-seat psychological thriller from the debut author Emiko Jean.
We'll Never Be Apart is such a fast paced YA psychological thriller, and it's definitely high up there on one of my favorites I've read this year! This book is told from both our MC Alice's point of view, as well as a letter she's been asked to write to her twin sister Cellie. Alice and Cellie grew up with a troubled past, bounced back and forth from one foster home to another. After Alice's deeply troubled twin sister Cellie burns down a barn with them inside, causing Alice's boyfriend Jason to die, she finds herself at Savage Isle, a mental health facility. Fueled by her rage, Alice will do anything to get to Cellie and make her pay for what she did.
This book was absolutely explosive, no pun intended! I thought the book was extremely well written, especially for a debut novel. I was hooked from the very first page and read the entire book in one sitting. You may not be able to relate to these character's but I guarantee that their stories will haunt you long after you've finished the last sentence.