Life After Juliet by Shannon Lee Alexander
Release Date:
July 5, 2016
Publisher:
Entangled Teen
Source:
Publisher
Format:
eARC
Pages:
304
Amazon
|
Goodreads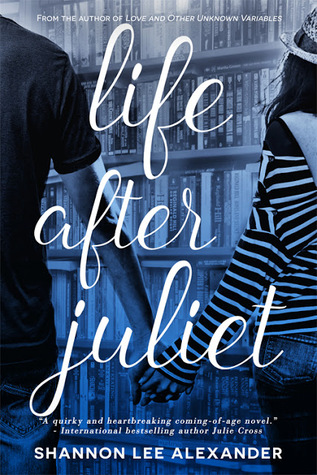 Becca Hanson was never able to make sense of the real world. When her best friend Charlotte died, she gave up on it altogether. Fortunately, Becca can count on her books to escape—to other times, other places, other people...

Until she meets Max Herrera. He's experienced loss, too, and his gorgeous, dark eyes see Becca the way no one else in school can.

As it turns out, kissing is a lot better in real life than on a page. But love and life are a lot more complicated in the real world...and happy endings aren't always guaranteed.

The companion novel to Love and Other Unknown Variables is an exploration of loss and regret, of kissing and love, and most importantly, a celebration of hope and discovering a life worth living again.
I had NO idea this was a companion book to Love and Other Unknown Variables which I have not read. But now I NEEEEED it you guys. Like, yesterday! To say I loved Life After Juliet would be a crazy ridiculous understatement! There are just ... no words to express the feels.
This isn't just one of my favorite books of the year, it's one of my favorite books of ALL time! It was unbelievably well written. The main character Becca is going through so many things. Her best friend died and she has just withdrawn into a bubble. She doesn't ever want to feel that loss again. She retreats into the world of books, choosing to live in the stories unfolding on page rather than in the real world. I can completely identify!
But things completely change when she gets involved in the school play Romeo and Juliet. She meets Max, who..let me just say is my FAVORITE male character. I wish he were real..oh how I wish he were real. I'm not going to say another word because you need to read this amazing book for yourself!