These Shallow Graves by Jennifer Donnelly
Release Date:
October 27, 2015
Publisher:
Random House Delacourte
Source:
Library
Format:
Finished Copy
Pages:
488
Amazon | Goodreads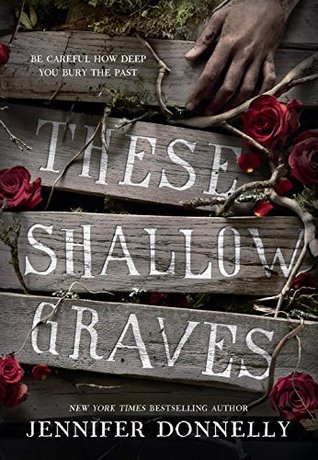 Jo Montfort is beautiful and rich, and soon—like all the girls in her class—she'll graduate from finishing school and be married off to a wealthy bachelor. Which is the last thing she wants. Jo secretly dreams of becoming a writer—a newspaper reporter like the trailblazing Nellie Bly.
Wild aspirations aside, Jo's life seems perfect until tragedy strikes: her father is found dead. Charles Montfort accidentally shot himself while cleaning his revolver. One of New York City's wealthiest men, he owned a newspaper and was partner in a massive shipping firm, and Jo knows he was far too smart to clean a loaded gun.
The more Jo uncovers about her father's death, the more her suspicions grow. There are too many secrets. And they all seem to be buried in plain sight. Then she meets Eddie—a young, brash, infuriatingly handsome reporter at her father's newspaper—and it becomes all too clear how much she stands to lose if she keeps searching for the truth. Only now it might be too late to stop.
The past never stays buried forever. Life is dirtier than Jo Montfort could ever have imagined, and the truth is the dirtiest part of all.
I haven't read anything by Jennifer Donnelly so I didn't know what to expect going into this book. I just knew the cover was hauntingly gorgeous and I couldn't get the synopsis out of my head. I honestly fell in love with this book within just a few chapters.
The main character Jo, and Eddie really made this story for me. Jo is torn between two worlds, what is expected of her and what she longs for. I loved her interactions with Eddie and they soon became my favorite parts of the book. I found myself racing through the chapters, not wanting to put this book down for a second!

This book has mystery and suspense, historical features, a love triangle, and I found it incredibly well done! By the time I got to the end of the book I found myself grabbing up all the books the author noted as her source material and research for the book. A total FIRST for me! A book has NEVER entanced me so much that I couldn't let it go and had to delve in beyond the book itself. Which speaks volumes as to how amazing this book really was! It is an all time favorite for me. If you've read it I'd love to hear your thoughts, and if you haven't, run, RUN to the bookstore NOW!