Gabby Duran and the Unsittables by Elise Allen & Daryle Connors
Release Date:
May 12,2015
Publisher:
Disney Hyperion
Source:
Publisher
Format:
ARC
Pages:
208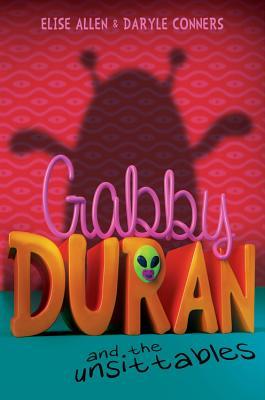 Case File: The First Unsittable
Summary: The Association Linking Intergalatics and Earthlings (hereby known as A.L.I.E.N.) has a new member. After months of investigation, Gabby Duran, Associate 4118-25125A, has proven herself to be a babysitter extraordinaire. Her celebrity clients fly her around the country to care for their rambunctious little humans. Our spy, Associate 4118-23432B, otherwise known as Edwina, believes Gabby can be trusted with the truth: aliens are living among humans on Earth. And here at A.L.I.E.N we believe that even extraterrestrials need a babysitter now and then. No one was up to the task until now.
After accepting the top-secret position, Edwina has paired our new associate up with her first charge, a little girl from the planet Flarknartia. The timing for associate 4118-25125A is less than ideal. It's a school day on Planet Earth, Gabby's audition for the solo part in the band is tonight, and this tiny alien is a bit more than meets the eye.
Can Gabby Duran, Associate 4118-25125A, First Sitter to the Unsittables, keep her otherworldly charge safe in the unpredictable halls of middle-school and keep A.L.I.E.N hidden?
I always thought I was not a fan of MG books, but seeing as this is the second one in the past 2 weeks that I've read and really enjoyed, I may have to stop saying that! Initially what drew me to this title is that it has ALIENS! ALIENS!!!! You guys, I LOVE Alien stuff! Books, movies, toys, you name it! I've even been Alien hunting with my friends. Whaaaat?!?!? Yeah, it's a thing!
FOCUS Cristina! Back to the book on hand... the ALIEN tie in may have been what drew me in, but this was a really cute and fun read. The main character Gabby has really awesome skills at baby sitting which is why Edwina seeks her out to work for them, sitting for the "unsittables" aka alien babies!!! Ahhhh!!!
There's some stolen alien property, an underground society plotting against them, a possible world take-over...this book had everything! It was so cute and fun, and I honestly didn't want it to end. I really love it and I think you will too! If you like MG, ALIENS or maybe just want to reach out of your comfort zone and try something different then I think you should pick up a copy of Gabby Duran and the Unsittables. It's such an entertaining story that will take you out of this world!